We're back on the subject of plate carriers again!
This time, following up the Bulletproof Zone Guide to Plate Carriers with our highlight picks of the top tactical plate carriers in 2022.
In terms of ergonomics, utility and audience, plate carriers have evolved dramatically from their humble origins.
When, at a top-secret government research laboratory in Natick Massachusetts in the mid-sixties, the T-65 was unveiled.
No, not some futuristic cyborg straight out of The Terminator, but a nylon vest loaded with ceramic armor 'chicken plates'.
Both the T65-1 and T65-2 were used to trick out U.S. Army heli pilots and gunners during the Vietnam War.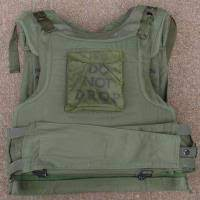 These days, plate carriers are among the most diverse and widely adopted tactical kit on the planet.
With a seemingly endless selection of body armor, we know that shopping for a quality plate carrier can be a dizzying experience.
So to save you the time and trouble (and in no particular order), here's our round-up of the best plate carriers out there today. And, should you need it, a summary reminder of their main functions and features.
WHICH ARE THE BEST PLATE CARRIERS?
BEST SLICK PLATE CARRIERS
1. DL PLATE CARRIER + FLEX FUSED CORE SOFT ARMOR PLATES BY SPARTAN ARMOR SYSTEMS
Still our best selling body armor package, Spartan Armor's 'Down Low' Plate Carrier is an absolute steal for what you get.
Battle ready, it's ideal for corporate execs, VIPs (from politicians to celebs), undercover cops, and corrections officers – – whenever and wherever concealment is the priority.
FEATURES & SPECIFICATIONS
• Fully adjustable shoulder straps.
• Fully adjustable cummerbund – – integral twin side pouches hold pistol and M4 carbine/rifle mags (or similar sized gear).
• Generously proportioned front and back velcro areas.
• Includes 10"x12" (medium) or 11"x14" (large) Small Arms Protective Insert [SAPI] style Level IIIA soft armor – – for discreet wear.
• Or substitute for a pair of Level III AR500 Omega or Level III+ AR550 hard armor plates (sold separately) – – to wear the carrier above clothes.
• Slimline and comfortable vest made from a blend of 500 Denier nylon/polyethylene.
• Up for grabs in a handful of colors/patterns – – Black, White, Tan, MultiCam, and Olive Drab OD Green.
• A pretty lightweight sub-2 pound vest with a 10"x12" soft armor panel running to 1.14lbs.
2. THE SLICKSTER™ PLATE CARRIER BY FERRO CONCEPTS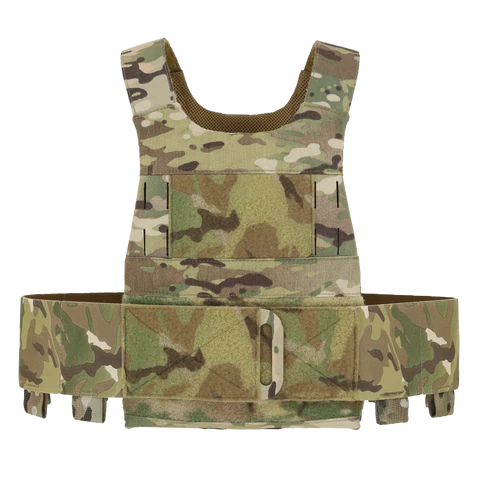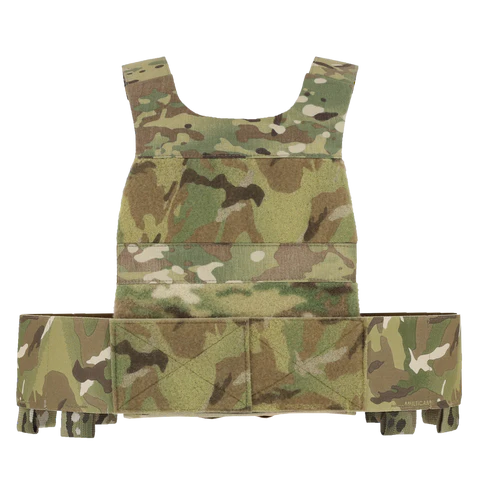 Ferro Concepts' Slickster™ is among the most fat-free and bare-bones tactical plate carriers to be had.
Out of the box, there's precious little laser-cut webbing on the vest.
Rather, it's supposed to be modded with the manufacturer's long and ever-growing list of ADAPT add-ons – – everything from danglers and mag pouches/shingles to pockets for side plates and back panel bangers.
Meaning The Slickster™ can be tailored to the broadest range of assignments. Where it shines most is as a pared down concealable plate carrier for low-viz security and clandestine ops. But it can also be ramped up as a tactical plate carrier for high-risk direct-action missions.
FEATURES & SPECIFICATIONS
• Inside of both the front and back panels of the vest are padded and meshed.
• Vest exterior boasts color/pattern-matched hook-and-loop fields.
• Fully adjustable laminated shoulder straps – – supplied with complementary quick sizing adjustment tool.
• Fully adjustable two-piece Carry Elastic Cummerbund [CEC] – – 4 pockets per side each hold 5.56 and 7.62 caliber ammo mags.
• Plate bags accept SAPI, Enhanced SAPI [ESAPI], Swimmers Cut, and Shooters Cut ballistic inserts – – up to 10"x12.25"x1" for the medium size plate carrier and up to 10.5"x13.5"x1" for the large size carrier.
• Carrier made of mil spec 500D Cordura.
• Sold in a half-dozen colors/patterns – – MultiCam, MultiCam Black, Coyote Brown, Ranger Green, Black, and Wolf Gray.
• The vest alone weighs a mere 0.8lbs.
BEST MINIMALIST PLATE CARRIERS
3. LV-119 PLATE CARRIER BY SPIRITUS SYSTEMS
With a cult-like status, Spiritus' 'Low Visibility' 119 Plate Carrier is the ultimate expression in modularity. Plug 'n' play it isn't.
But with the time (think months), the know-how, and the coin, the system can be toggled between covert and overt forms.
FEATURES & SPECIFICATIONS
• For starters, you'll need a Front Plate Bag, an Overt or Covert Rear Plate Bag, and whichever of four varieties of cummerbund.
• Then you can go crazy with all manner of Spiritus' pouches and other accessories – – for example, Trifold Shoulder Covers, Back Panels, Recovery Handle, and Side Armor Bags.
• Also compatible with an assortment of Spiritus' own and third-party placards and chest rigs.
• Even better, the LV 119 system is in constant development with new bits and pieces to keep the plate carrier fresh.
• Front and rear plate bags accept SAPI cut plates – – medium size bags fit 10″x12.5″x1.20″ inserts, large size 10.25″x13.25″x1.20″, and extra large size 11″x14"x1.20".
• Formed of precision-sewn laminated 500D Cordura with a softshell structure.
• Offered in Black, Coyote Brown, MultiCam, MultiCam Arid, MultiCam Black, MultiCam Tropic, Ranger Green, Wolf Gray, and Woodland.
• Honorable mention goes to Over The Beach [OTB] Front and Rear Overt Plate Bags (in MultiCam only) – – they've particular characteristics that make the carrier better suited to maritime or other water-borne applications.
4. JPC 2.0 PLATE CARRIER BY CRYE PRECISION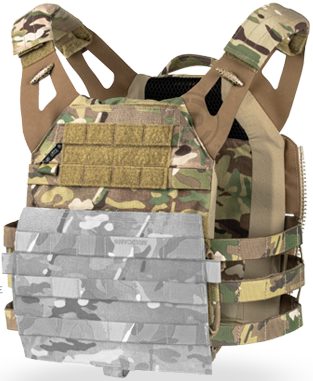 The second generation Crye Precision Jumpable Plate Carrier is frequently reckoned to be the best minimalist plate carrier – – the benchmark of how to make a compact high-mobility lightweight plate carrier.
It has a long legacy of deployment by private security contractors, as well as military and law enforcement elite worldwide – – not least Navy SEALs, Delta Force, Army Rangers, and Federal Bureau of Investigation [FBI] Special Weapons And Tactics [SWAT] agents.
FEATURES & SPECIFICATIONS
• Moderate padded mesh layering the interior of both vest panels to keep the mass down.
• Adjustable neoprene anti-slip shoulder straps – – includes rip-corded two-step e-doff (emergency doffing) system, and velcro covering for tidying cables.
• Patented Skeletal cummerbund system permits mounting of pouches on the outside and inside. Waistband secured to the vest by two strands of adjustable shock cords which join at the back.
• Spacious easy-access admin pocket on the front of the carrier.
• Vertical webbing loops on the front panel support attachable chest rigs, with buckles and velcro for connecting placards.
• Hook-and-loop patch on the front for attaching detachable flaps and mag pouches/shingles.
• Zippers along the sides of the back for mounting Pouch, Pack, or MOLLE zip-on back panels.
• Further scalable care of a healthy abundance of JPC add-ons such as the Long Side Armor Pouch Set. Plus, many of Crye Precision Adaptive Vest System accessories.
• Lay-flat drag handle at the top of the rear panel supports a load of up to 400lbs.
• Plate bags feature spandex which stretches to accommodate standard/SAPI ballistic plates of varied thicknesses. Small size carrier fits 11.75"x8.75" armor inserts; medium size 12.5"x9.5", large size 13.25"x10.5", and extra large 14"x11.25".
• Vest made from 500D Cordura.
• Colored/patterned in Black, MultiCam, Coyote, Ranger Green, MultiCam Black, MultiCam Arid, and MultiCam Tropic.
• Carrier without hard plates or gear weighs 1.2lbs.
BEST GENERAL PURPOSE PLATE CARRIERS
Specifically designed for armed forces and police, but now more at home on gym manoeuvres.
5.11's TacTec has become the go-to plate carrier for fitness training or hardcore work-outs. It's even been appointed as the official plate carrier of the CrossFit Games.
Raved about for its solid performance, longevity, versatility, and all-day comfort – – all without breaking the bank.
FEATURES & SPECIFICATIONS
• Inside each vest panel has four perforated mesh-covered raised pads separated by enlarged air flow channels.
• Broad, fully adjustable and equally well padded yoke shoulder straps.
• Skeletonized elastic cummerbund with tensional bands to fit girths 52" to 57". Side panels (not included) can be attached for holding side plates.
• Decently sized admin pocket behind the front panel with pull tab and velcro seal.
• Front and back panels each covered by a 9×8 grid of PALS webbing – – the upper 6 rows being laser-cut velcro and the lower 3 being ordinary nylon webbing.
• Cleverly designed extendable drag handle tethered to the back panel.
• One-handed quick detach mechanism allows the carrier to be ditched in an instant.
• Plate pockets are sized to hold medium (12.5″x9.5″x2″) or large (13.25"x 10.25"x2.25") ESAPI armor inserts or Rogue weight vest plates (not included).
• When fitted, the side pouches accept ballistic plates up to 6"x8"x1" (sold separately).
• Carrier made of 500D nylon with rugged Duraflex fasteners.
• Comes in a trio of colors – – Ranger Green, Black, and Dark Navy.
• Vest itself weighs roughly 2.5lbs.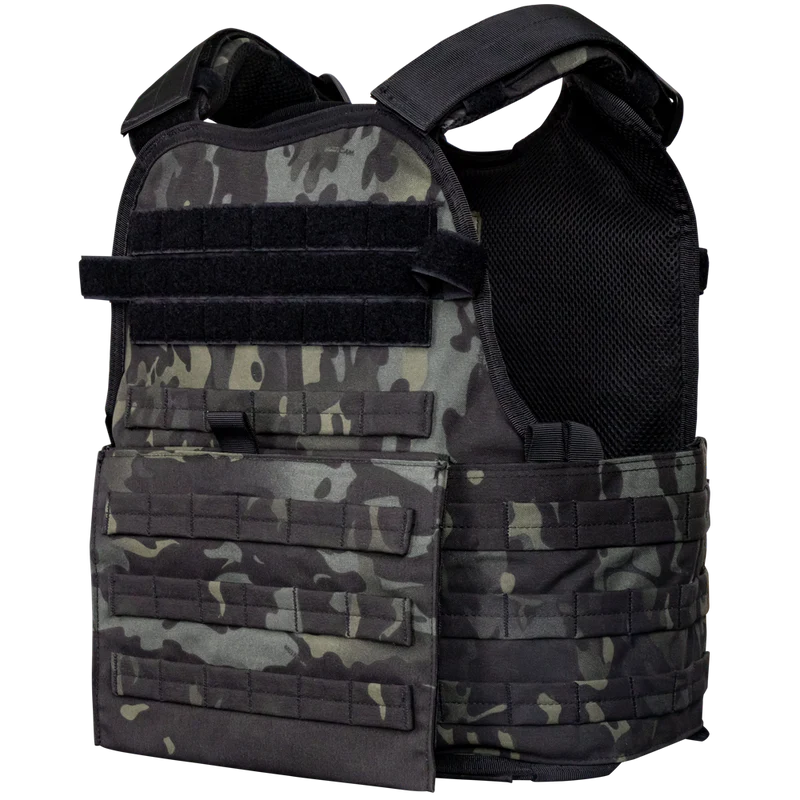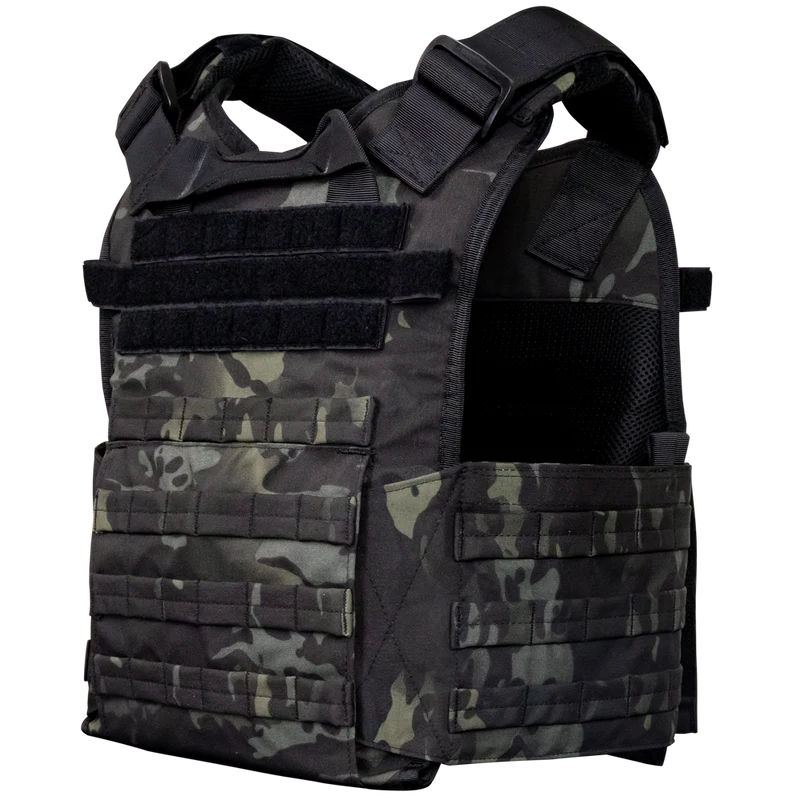 Yes, it does bear an uncanny resemblance to KDH Defense Systems' USMC Plate Carrier issued to Marine Corps operatives. Except Condor's MOPC Gen II isn't something you're going to don patrolling the mountains of Central Asia.
It's a medium class tactical plate carrier infinitely in demand with the airsoft, paintball, and MilSim crowd. But no less suitable for the likes of home defense, disaster/emergency preparedness, or just to get a feel for a 'MOLLE plate carrier'.
Unbeatably valued, you simply can't go wrong.
FEATURES & SPECIFICATIONS
• Front and back panel interiors reasonably padded with 3D mesh lining.
• Fully adjustable wide shoulder straps with removable anti-slip padding and velcro guides.
• Detachable elastic cummerbund with adjustable sizing from 40" to 48" and built-in side plate pockets.
• Front admin pocket with press stud and velcro closures.
• Tons of PALS webbing across the front and back panels, and cummerbund.
• 9"x3" hook-and-loop field, front and back.
• Emergency drag/grab handle.
• Dual quick-release buckles at the shoulders and waist.
• Front and back plate pockets accept medium or large ESAPIs/Swimmers Cut plates up to 10.25"x13.25" (not included).
• Side plate pockets take soft armor inserts (only) up to 6"x11" (sold separately).
• Materialed in 500D tactical nylon for MultiCam, MultiCam Black, and Scorpion Operational Camouflage Pattern [OCP]. And in 1000D for Olive Drab, Navy Blue, Black, and Coyote Brown.
• Carrier vest is a lightweight 1lb.
The LBX-0300 Modular Plate Carrier is produced by London Bridge X. As it happens, it's almost a carbon copy of its parent company's military plate carriers model, the LBT 6094 – – only the most iconic plate carrier ever created, and legendary among Special Forces units worldwide.
Although missing some of the 6094's key features (like the kangaroo and side plate pouches), the LBX 0300's identical in quality.
And at a fraction of the price, a no-nonsense entry-level plate carrier.
FEATURES & SPECIFICATIONS
• Duo of hook-and-loop guides on the upper edges of each of the front and rear panels.
• Fully adjustable shoulder straps with densely padded detachable covering.
• Removable cummerbund adjustable for 32″ to 46″ waists so caters to smaller framed persons.
• Sturdy near-360° PALS webbing over the front and back panels, and cummerbund.
• Reinforced drag/grab handle.
• Front and rear plate pockets accept 8.75"x11.75" plates (small), 9.5"x12.5" plates (medium), or 10.125"x13.25" plates (large). As a bonus, each plate pocket allows a trauma pad or an NIJ Level IIIA soft armor backer to be inserted (armor/trauma plates not included).
• Composed of 500D Cordura.
• Available in Ranger Green, Woodland, Wolf Gray, MultiCam, Coyote, Black, Navy, and LBT's very own Maritime Assault Suit MAS Gray.
BEST HEAVY-DUTY TACTICAL PLATE CARRIERS
Innovatively designed with exemplary workmanship, Crye's Adaptive Vest System is a pro grade armor chassis style plate carrier.
Though setting it up is no picnic and calls for deep pockets, the Crye AVS is totally customizable – – it can be fashioned with different load-outs to go from covert carrier to recce carrier to heavily armored carrier in minutes.
FEATURES & SPECIFICATIONS
• Base configuration consists of two parts – – an AVS Plate Pouch Set (front and back vest panels each housing a plate bag) plus the AVS Harness (with single waist straps).
• Use the base configuration as is or as a platform to build on by attaching any of nearly 30 Crye accessories – – for instance, toss in an AVS 2- or 3-band Skeletal Cummerbund and an AVS Side Plate Carrier Set to format as a classic plate carrier.
• For load storage and support, add bells and whistles with various detachable flaps, backpack, chest rig, or Crye's Structural Kinetic Support System [StKSS].
• Not counting an extensive array of aftermarket mods for the AVS.
• Plate Pouch Sets are available in three types (Standard, Swimmer Cut, and Modular Body Armor Vest [MBAV]), each in one of four sizes. The plate bags of a set are custom fit for the corresponding plate sizes.
• Textiled in military spec 500D Cordura.
• Comes in a quartet of colors/patterns – – Coyote Brown, Flat Black, Ranger Green, and MultiCam.
• The AVS harness weighs in at a feather-light half pound
Your turn! Do you agree with our line-up of tactical plate carriers? Are there any others you'd recommend based on experience? Stick around to let us know in the comments section below!